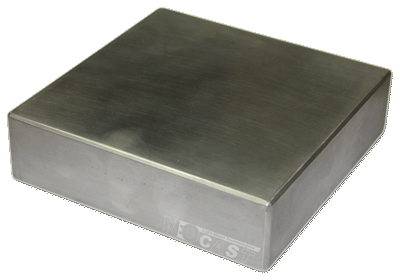 In our foundry we cast magnesium block then cut in the cuboid form of a size requested by the customer. Our specific expertise, experience and technological resources allow us to manufacture a single block up to 100kg of its weight. We offer forms of the following magnesium alloys: AZ91, AZ31, AM60, as a fixed range of products. Moreover, we provide blocks of other magnesium based alloys such as: RZ5, Elektron21, etc. We may pleasurably declare that we are currently the only one manufacturer of the magnesium billets located in East Europe (the material is produced in Poland and it is not imported from Far East).
If you purchase our billets we may offer you:
a guarantee of the product's quality (chemical composition, endurance properties)
short delivery terms
professional help in magnesium alloys implementation for the production
time reduction of prototype design
working hours reduction
rapid production process
waste minimisation
a wide range of alloys and form sizes
We also offer machining service on 3 or 5 axis CNC machines
Why do we use magnesium ?
A constant development of the lightweight constructions and products depends on the market availability of the high quality endurance properties while maintaining low relative density. One of these materials is magnesium and magnesium-based alloys. Their characteristic feature is low specific gravity at 1.8g/cm3 level, i.e. almost 30% lighter than aluminium-based alloys. In addition, taking up into the consideration the level of endurance properties that are akin to selected aluminium alloys values and comparing them to magnesium alloy density, we obtain a high-level material of relative endurance. It is crucial in the case of details are required to be of elevated endurance while maintaining low unladen mass – it is used in automotive industry, aircraft industry etc.
Magnesium is characterised by other unique properties due to which it has a use for the other industry sectors:
better conductor, dissipates the heat a 100x times better compared to plastics
shields perfectly electromagnetic radiation (EMI interference)
resistant to denting and has excellent ability of mechanical vibration attenuation
easy to process mechanically, allows higher speed of machining
environmentally friendly, it is fully recyclable
practically unlimited source of the material – we can obtain magnesium from ores and seawater.
Mainly, the magnesium alloy products are manufactured by using casting methods – die-casting, permanent mould casting, sand casting as well as by a forming processes of profiles, pipes, bars and sheeting. However, in the case of shorter production series when the costs of casting form preparation, patterns or mould is too high, the alternative method of production process is billet machining e.g. CNC machining centre. This solution enables the shortening of producing cycle and relatively lowering the costs of manufacturing.
Machining of the magnesium billet - AZ91