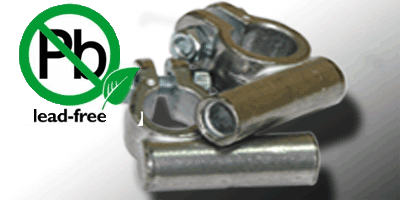 NeoCast company manufactures a range of universal battery clamps (terminal) designed for both cars and trucks. According to European Union regulations (ROHS 2002/95/WE) restricting the use of certain hazardous substances in electrical and electronic equipment, our products are entirely lead-free and consequently friendly both to people – and, notably, to the end-users who mount our products – and to the natural environment. It is worth mentioning that other alloys (e.g. brass) used to produce battery clamps contain lead as one of the basic alloy additives. The products manufactured by our company boast solid workmanship, high aesthetic qualities and possess outstanding mechanical properties (Rm>300MPa, A5>20%), providing them with a long, trouble-free useful life.
Our company only uses certified raw materials (metals and alloys) of optimum chemical quality. We closely monitor all the technological parameters of metal quality, temperature, etc., throughout the entire production process. All our products are subject to our strict quality control procedures. In order to ensure optimum mechanical properties during the manufacturing process, we add titanium to ensure a higher quality result in the end product. The mechanical properties are compared to a highly elastic alloy, e.g. brass.
New product innovation! Eco-friendly, lead-free battery terminals (clamp) and battery cables

Features :
Material: Lead free composition;
Eco-friendly;
Clamps for crimping;
Sizes from 16mm2 to 70mm2;
High electrical conductivity;
High ductility;
Good corrosion resistance;
Permanent, indelible, readable gauge and polarity stamped on clamp. 
Download a flyer about klemach in pdf format - click here
Crimping battery terminal on the cable